We'd rather dedicate ourselves to fully serving our students than to toot our own horn, but it is gratifying when students recognize our efforts. Here are examples of what our students say about us.


Angel McCullough, Freelance Court Reporter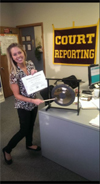 Angel started attending onsite classes at CCR a week after graduating from high school! Before graduating from CCR she received a job offer in Washington, D.C.! Shortly after graduation she moved to Washington to begin her career as a Freelance Reporter for Alderson Reporting. When asked, what advice do you have for students? Angel replied, "the most valuable advice I can give to current students is to always remember that everyone advances and learns at their own pace. Don't compare yourself to anyone else, and don't let anyone else compare you to another person either. Let your fingers do the talking!" When the time is right she hopes to transition into CART or captioning.
Erika Darnold, Official Court Reporter

Erika currently resides in Robinson, IL. She attended CCR from June of 2011 to January of 2014. In May of 2014 she took the IL CSR and found out that she had in June! The day after she found out that she had passed she started working on June 16, 2014! She's now working as an official Court Reporter for the State of Illinois. Her office is in Law-rence County, but she also works in Crawford and Richland counties as well. I think it's always great to have a goal to strive for even throughout your career.
Shannon Gniadek, CART Provider
Shannon currently resides in Hobart, Indiana, and graduated from College of Court Reporting. She is now working as a CART Provider for Terry's Transcrips (8 years), Karasch & Associates (2.5 years), CaptionAccess (9 months), and Quick Captions (9 months)! She's excited to say that, "College of Court Report-ing became my second home while I was attending classes there. The fac-ulty and staff are eager to help everyone succeed. It's a very special pro-gram to be a part of. I'd recommend College of Court Reporting to anyone looking to start a new career and make a great living for themselves."