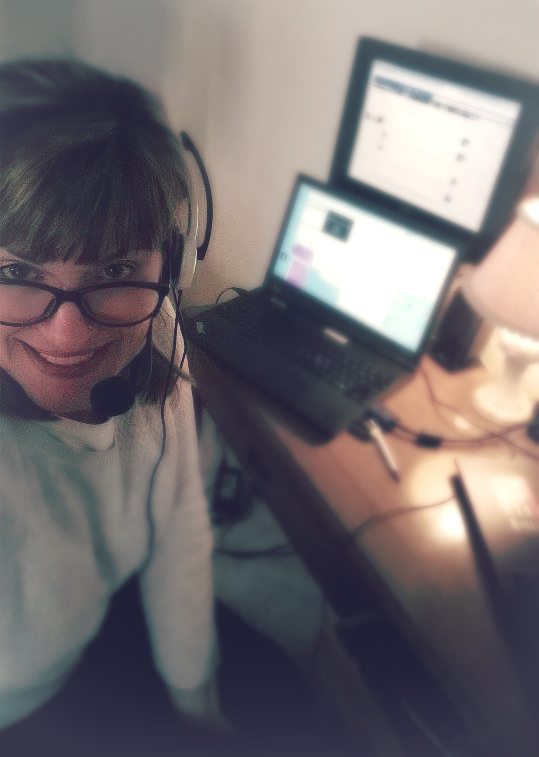 Hello! I wanted to share a bit of what my day looks like as a voice captioner!
I love working from my desk at home to voice captions to the deaf and hard of hearing community. I caption events for large corporations, businesses, and governmental agencies (including the White House!); voice financial earnings for companies' quarterly earnings; log in with students in their classrooms who need some assistance during their lectures, college, high school, and elementary (CART captioning); and I do events like the one I show here in my video .
This one was for the Supreme Court in California. They were hearing oral arguments for some cases, and this event was broadcast and open to the public, which is why they use closed captions for those in the community who may need that accessibility.
The video shows a demonstration of how voice captioning works. I "hear" them speaking through my audio through the URL provided, in this case, the public web access. I also can dial in to a conference call number through my laptop for some meetings as well. You can hear that I am repeating what is said in the proceeding. Voice captioners don't have to caption "verbatim." This means I am allowed to paraphrase and/or shorten sentences as long as the meaning and context is still conveyed accurately to the deaf and hard of hearing community. Sometimes you will hear me say something that is not intelligible English, like "quex," which is my code word for question mark, or "spak," which means I want my software to start a new line. These are custom words that we create to help get our words out faster. As you can see, sometimes people speak in a natural easy pace, and sometimes they can go very quickly, so we have to keep up! The custom words we come up with and define in our software help with that.
I use a laptop computer, a microphone, and a headset. That is all I need for my job! I also need a good fast internet connection and a phone line (for TV captioning). In my set up, I also have an additional monitor. As a voice captioner, you are "connected" to many different sources and resources while you do each job. The extra monitor is great for having all the tabs and windows I need easily accessible at all times.
I love that every day I get to do something different. I learn new things and interact with all different and diverse people. But most of all, I love that my skills are able to be put to use to assist those in our community who need it.
Julie Lazart Balog
Voice Captioner at VITAC/Caption Colorado and Instructor at College of Court Reporting
If you would like information on our Voice Captioning program at College of Court Reporting,
please contact Nicky Rodriquez

Toll Free: 866-294-3974 ext. 222
Feel free to reach out to me if you ever need anything! julie.balog@ccr.edu