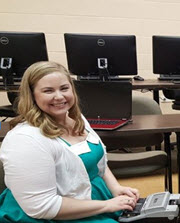 When did you graduate?
I passed my final 225 on Friday, April 8, 2016.
What lead you to pursue court reporting as a career?
I had no idea what I wanted to do after high school. I knew a traditional four-year college wasn't my thing. A friend of mine in high school wanted to be a court reporter, and she really talked it up. I thought, "Hey! I could do that."
What made you choose CCR?
I live about 25 minutes away from CCR's onsite location, so it was an easy decision for me.
Do you have any certifications? If not, do you plan on getting any?
I passed the RPR WKT about a week after I passed my last 225, but I have not taken the skills portion yet. I hope to attain my RPR certification this summer.
Are you currently working? If not, what are your future plans?
I will be a freelance reporter with Connor Reporting, but I have not taken my first deposition yet.
What were your strengths in school?
Grammar and punctuation. I also really enjoyed the process of creating a transcript when I had to submit my mocks.
What were your weaknesses in school?
My attitude was my biggest weakness. It held me back for a while. This skill came very naturally to me early on, and when I got stuck at 180, I wasn't used to working so hard to pass a speed. It took some time for me to learn that being upset about my struggle wouldn't help me get through it. I had to learn to push away my negative thoughts and push myself to work as hard as I could to progress.
If you could give any advice to a struggling student, what would that be?
Don't be too proud to reach out to your instructors when you feel hopelessly stuck. They want to help you and see you succeed, and they have endless amounts of excellent advice. Don't practice with a chip on your shoulder. Your attitude will hold you back no matter how much time you practice. Accept the obstacles you are faced with and resolve to overcome them. There's no other option. Transcribe every day. EVERY DAY! You will hate it, and you will want to cry most days, but it will help you tremendously. Don't give up. The day you graduate will be so overwhelming, and you will realize that it was all worth it. Don't quit before you get to feel that incredible sense of accomplishment.